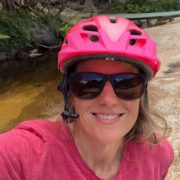 Zoe Exton
Zoe is always on the go, she doesn't stop! When not in our office, driving the minibus, or on the trails, you'll likely find her hiking, swimming, surfing, or playing pickleball. Known to beat the sun and crowds for a mid-winter local points surf, and be back in South Hobart to guide a group of riders by 10am!
A lifelong learner, linguist, and explorer, Zoe has worked both internationally and nationally in education and would love to hear about your adventures before you found us. 
An animal whisperer, Zoe feels blessed to be able to share waves with pods of dolphins and local trails with our bouncing friends. She also wins our prize for most times spotting the platypus in the local Hobart Rivulet. Possibly the only person in the world to have a juvenile platypus jump into her lap! 
---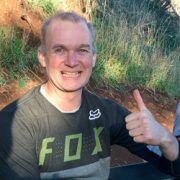 Phil Exton
Phil grew up on a farm in country Victoria and began riding trail bikes at an early age. As a child of the 70s, his first bike of significance was a Raleigh Chopper, though he quickly worked out the reverse mullet, slick tyres, and chopper bars, wasn't going to be the trail killer he was looking for!
After university, he touched down in Tasmania for a holiday, and lucky for us he loved it so much he decided to stay. A passionate ambassador for Tasmania, Phil's been shredding our trails ever since.
In 2017, he saw an opportunity to share Tasmania's increasingly world-renowned trail network with others; he swapped his day job as a school principal for his passion, and set up Tasmanian Mountain Bike Adventures.
Phil is an entrepreneur, adventurer, would-be surfer, gold whisperer, and die-hard Collingwood supporter. Master of the dad jokes and an avid storyteller, be prepared to be drawn in and entertained on tour.
---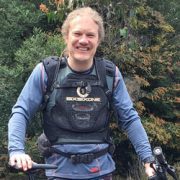 Richard Sampson
Rich is a keen trail rider, and man of many (unusual) talents. He can frequently be found hanging around trailheads and shady resting spots in South Hobart and Maydena Bike Park.
He brings a wealth of skills and experience to our team, with over 25 years working in community sport, marketing, and event management.
In a previous life, he worked in a circus, and toured Australia, Europe, and USA playing disc golf; he still enjoys the odd round or two at Hobart's Poimena Disc Golf Course. Always keen for a chat about Tasmania, trails, and sport in general, especially if it involves Liverpool or the Essendon Bombers.
---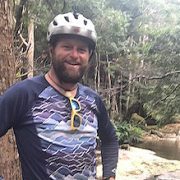 Ben Segal
Ben really enjoys getting to know people and being outside. He loves tinkering and experimenting and has been known to change a stem or two mid-ride.
As a trained opera singer, he sometimes can be heard warbling a tune while riding or walking trails. He is a passionate community engagement facilitator with a keen interest in things that make funny noises.
Ever dreaming of the next challenging adventure, he has travelled extensively, including Canada, Europe, and Nepal. He has also raced the Mega Avalanche twice and completed Trans NZ. Always keen to give a crazy idea a go.
---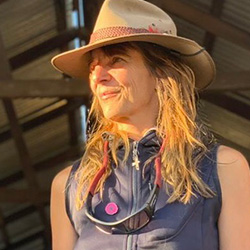 Marina Hagen
Marina loves being outside in nature, and sharing this experience with people. Mountain biking on Tassie's fantastic trails is one great way she likes to do this.
As a water and mountain lover, she also enjoys bushwalking, sea kayaking, and sailing. When she's not exploring the great outdoors, you can find her in the dojo practising karate, or on the yoga mat.
Being a trained outdoor guide, cabinet maker, and architect, she brings an eclectic mix of skills and experience to our team; bushwalking guide, outdoor education, timber workshops, as well as designing houses and extensions.
Marina grew up in Europe and loves exploring new places, cultures, and meeting people. When she arrived in Tasmania, she loved the beautiful nature and relaxed lifestyle so much, she made it her home.
---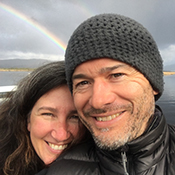 Tim Wright
Tim was born in South Australia but, despite this, and having lived for some years in Victoria, he's always considered lutruwita/Tasmania home.
In a former life he worked too hard in I.T. in the relentless pursuit of 'financial success', but as the decades slipped by, he decided there must be more to life, and now spends his time doing things he loves.
Working as a Tour Guide 'doesn't feel like work' and allows Tim to share some of the many delights of this stunning island state with a diverse range of appreciative guests and locals.
Most days he can be found cranking amongst the natural beauty of the Peter Murrell State Reserve near home in Blackmans Bay in anticipation of a rewarding, thirst quenching, hoppy ale.
Finding great satisfaction in maintaining his trusty mountain bike (like a well-oiled machine!), he's always fine tuning and tweaking for that crisp gear shift, plush suspension, and powerful, well-modulated braking.
Fly fishing for trout and snorkelling for abalone are also amongst Tim's favourite pursuits, and he enjoys many ways of consuming the delicious bounty.
---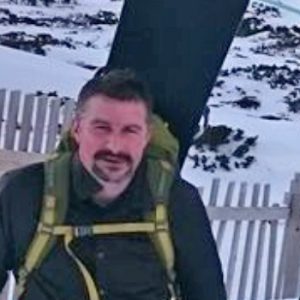 Andy Campbell
Andy has a deep-rooted passion for this remarkable island and all the adventures it offers. As an avid outdoors enthusiast, you'll often find him casting a line in serene waters, or exploring lush trails on his trusty bicycle.
With years of experience as a bicycle education instructor, Andy is committed to promoting safe and enjoyable cycling experiences for kids and adults. He knows the joy of riding fosters lifelong skills and unforgettable memories.
Tasmania's natural wonders have inspired his love for the great outdoors and a sustainable way of life. Whether he's sharing insights on the best fishing spots or leading outdoor excursions, Andy is dedicated to preserving and celebrating the beauty of our environment.
---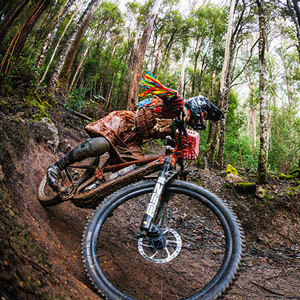 Nathan Whitemore
Nathan grew up in Yass (NSW) where he found a love for the outdoors. After living abroad and seeing the world he found himself working as a bushwalking guide around Australia. Tasmania eventually became home, and whenever time permits he's either exploring the state's amazing MTB trails or getting out on remote hikes. Between study, you will find Nathan guiding our kunanyi / Mt Wellington adventure ride as well as driving the shuttle bus to and from popular riding destinations.
---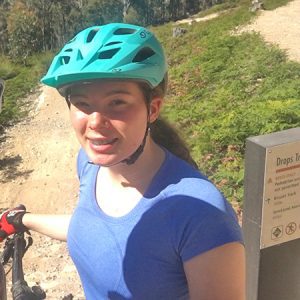 Olivia Sampson
Olivia has been in Hobart all her life, and most of that time has been spent living at 400m above sea level on Mt Wellington. Fair to say she's a big fan of mountain life and probably our most sporting staff member. Not sure quite how she finds time for study and work as her portfolio of sports in quite extensive - Water Polo, Rowing, Soccer, Netball, and Aussie Rules. However, she's not always on the go, and loves nothing better and sinking into a good book, and hanging out with her dogs. You're most likely to meet Liv guiding our Mt Wellington Rainforest Ride.
---